Last Updated on May 30, 2023 by Admin
Construction equipment for building construction and construction machinery used in construction projects. Construction equipment refers to heavy-duty vehicles specially designed for executing construction tasks, most frequently involving earthwork operations. Kindly check below the construction equipment types and construction equipment list.
They are also known as heavy machines, heavy trucks, construction equipment, engineering equipment, heavy vehicles, or heavy hydraulics.
Proper use of appropriate equipment contributes to the Economy, Quality, Safety, Speed, and Timely completion of the Project. Construction equipment is an integral part of any construction process. It is not always desirable or possible for the Contractor to own each and every type of Construction Equipment required for the Project.
The basic operations involved in the construction of any Project are Excavation, Digging of large quantities of earth, Moving them to reasonably long distances, Placement, Compacting, Leveling, Dozing, Grading, Hauling, etc. You can find below the construction equipment used in India and abroad.
Read More About;
Construction machinery, also known as construction equipment, consists of a variety of heavy machines used in the construction industry. These machines are used to perform work such as loading and unloading materials, driving material and tools into and out of the site, moving materials from one location to another, feeding material into a machine for processing, retrieving materials from a machine for processing or handling of raw materials by transporting them to another location for processing, cutting down trees or other vegetation and the like. Kindly check below the types of heavy construction equipment used in the construction industry.
Construction Equipment Types
Kindly check the classification of construction equipment and construction equipment names and pictures. Various types of construction equipment are generally categorized into;
Earth Moving Equipment
Construction Vehicles
Material Handling Equipment
Other Construction Equipment
#1. Earth Moving Equipment
Earthmoving equipment is used to carry out various excavation tasks such as digging and moving the earth. Different types of earth-moving equipment have unique applications and are primarily used for repairing, constructing, elevating, agriculture, and demolition.
Following are the earth-moving equipment primarily used in construction projects.
Excavators
Excavators are popular earth-moving vehicles that feature a bucket, arm, rotating cab, and movable tracks. These components provide superior digging power and mobility, allowing this heavy equipment to perform various functions, from digging trenches and breaking holes to lifting away waste and excavating mines. Here are the john deere excavators you could consider.
Backhoe
A backhoe — also called a rear actor or back actor — is excavating equipment, or digger, consisting of a digging bucket on the end of a two-part articulated arm. It is typically mounted on the back of a tractor or front loader, the latter forming a "backhoe loader."
Loaders
A loader is a heavy equipment machine used in construction to move aside or load materials such as Asphalt, demolition debris, dirt, snow, feed, gravel, logs, raw minerals, recycled material, rock, sand, woodchips, etc. into or onto another type of machinery (such as a dump truck, conveyor belt, feed-hopper, or railroad car).
There are many types of loader, which, depending on design and application, are called by various names, including bucket loader, front loader, front-end loader, payloader, scoop, shovel, skip loader, wheel loader, or skid-steer.
Bulldozers
A bulldozer is a large and heavy tractor equipped with a substantial metal plate used to push large quantities of soil, sand, rubble, or other material during construction or conversion work and typically equipped at the rear with a claw-like device to loosen densely compacted materials.




Skid Steer Loaders
A skid loader, skid-steer loader, or skidsteer is a small, rigid-frame, engine-powered machine with lift arms that can attach to various labor-saving tools or attachments.
Skid-steer loaders are typically four-wheel vehicles with the wheels mechanically locked in synchronization on each side, where the left-side drive wheels can be driven independently of the right-side drive wheels. The wheels typically have no separate steering mechanism and hold a fixed straight alignment on the machine's body.
Over time, the rubber tracks on your skid steer loader may wear down and need replacing. In this case, one reliable option is 
Fortis HD skid steer tracks
. Designed to fit a variety of skid steers, these tracks aim to enhance the efficiency and longevity of your machine.
Trenchers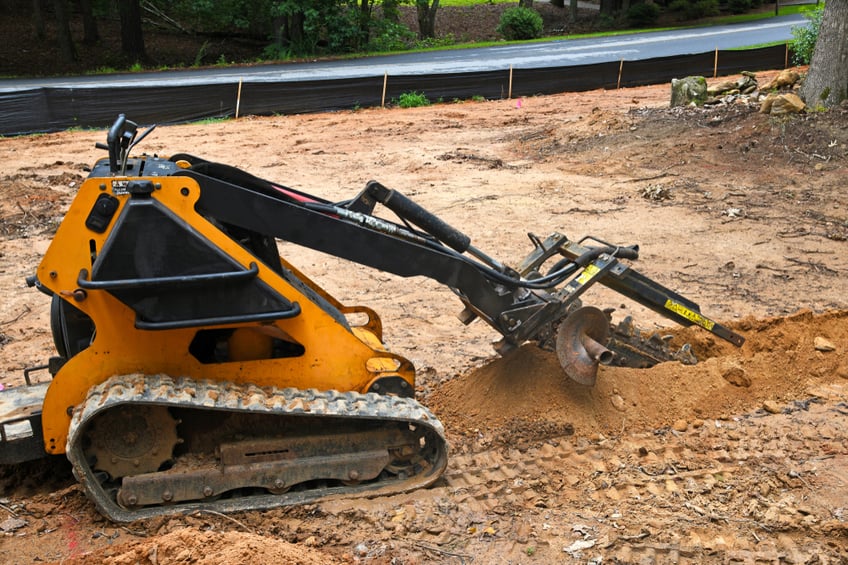 A trencher is a piece of construction equipment used to dig trenches, especially for laying pipes or electrical cables, installing drainage, or preparing for trench warfare. Trenchers may range in size from walk-behind models to attachments for a skid loader or tractor to very heavy tracked heavy equipment.
Motor Graders
A grader, also commonly referred to as a road grader or a motor grader, is a construction machine with a long blade used to create a flat surface during the grading process.
Motor Scrapers
In civil engineering, a Motor-scraper or Wheeled Tractor Scraper is a piece of heavy equipment used for earthmoving. The scraper can transport its load to the fill area where the blade is raised, the back panel of the hopper, or the ejector, is hydraulically pushed forward, and the soil or clay load tumbles out.
Crawler Loaders
Crawler loaders are heavy-duty earth-moving machines that give you a dozer's enormous power and heavy loading and lifting capacity.
Wheeled Loading Shovel
A wheeled loading shovel is a vehicle attached with a shovel designed to perform heavy-duty tasks in earthwork and construction operations. This shovel has specific capabilities to accomplish the loading tasks. Depending upon various sizes, tasks, and design requirements, this wheeled loader is furnished as a skid-steer, payloader, bucket loader, skip loader, and wheel loader.
It is used to transport materials from one place to another. It is equipped with a front-mounted bucket supported by a boom structure. For lifting, it loads the material into the bucket by the forward motion of the machine. After lifting the material, it transports the materials to their respective destination.



#2. Construction Vehicles
Dumpers
A dumper is a vehicle designed for carrying bulk material, often on building sites. Dumpers are distinguished from dump trucks by configuration: a dumper is usually an open 4-wheeled vehicle with the load skip in front of the driver, while a dump truck has its cab in front of the load.
Tippers
A dump truck, also known as a dumper truck or tipper truck, is used for taking dumps for construction and coal. A tipper is a heavy-duty truck chassis fitted with an open-top body, used for carrying aggregate, crushed rock, soil, and other bulk materials to and from construction sites.
Trailers
A trailer is an unpowered vehicle towed by a powered vehicle. It is commonly used for the transport of goods and materials. Sometimes recreational vehicles, travel trailers, or mobile homes with limited living facilities where people can camp or stay have been referred to as trailers.




#3. Material Handling Equipment
Cranes
A crane is a machine, generally equipped with a hoist rope, wire ropes or chains, and sheaves, that can be used to lift and lower materials and move them horizontally. It is mainly used for lifting heavy things and transporting them to other places.
Conveyers
A conveyor system is a common piece of mechanical handling equipment that moves materials from one location to another. Conveyors are especially useful in applications involving the transport of heavy or bulky materials.
Forklifts
A forklift is a powered industrial truck used to lift and move materials over short distances. In the early 20th century, the forklift was developed by various companies, including Clark, which made transmissions, and Yale & Towne Manufacturing, which made hoists.
Hoists
A hoist is a device used for lifting or lowering a load utilizing a drum or lift-wheel around which rope or chain wraps. It may be manually operated, electrically, or pneumatically driven and may use chain, fiber, or wire rope as its lifting medium.



#4. Construction Equipment
Tunneling and Handling Equipment
Tunneling equipment. Conveyor systems provide an efficient, reliable, cost-effective, and lower-risk method of removing muck and spoil from tunneling excavation sites. This equipment is precisely engineered to smoothly handle materials from the tunnel excavation site to the surface and beyond.
Concrete Mixers
A concrete mixer (often commonly called a cement mixer) is a device that homogeneously combines cement, aggregate such as sand or gravel, and water to form concrete.
Are You Looking for a Concrete Lifting Company? A typical concrete mixer uses a revolving drum to mix the components. For more minor volume works, portable concrete mixers are often used to make the concrete at the construction site, giving the workers ample time to use the concrete before it hardens. Kindly check this.
Road Making Machines 
These are the various machines used in the construction road. Though they are available in varying sizes to be applicable in small and large construction sites, they are generally considered heavy-duty equipment.
Road Rollers
A road roller is a compactor-type engineering vehicle used to compact soil, gravel, concrete, or Asphalt in constructing roads and foundations. Similar rollers are also used at landfills or in agriculture. Road rollers are frequently referred to as steamrollers, regardless of their method of propulsion.
Hot mix plants
The asphalt plant or asphalt mixing plant is one plant that is used for mixing the dry, warm aggregate, padding, and Asphalt for homogeneous mixture at the required temperature. And it is widely used for the construction of highways, city roads, and parking lots.
Stone crushers
A crusher is a machine designed to reduce large rocks into smaller rocks, gravel, sand, or rock dust. Crushers may be used to reduce the size or change the form of waste materials to be more easily disposed of or recycled, or to reduce the size of a solid mix of raw materials (as in rock ore) so that pieces of different compositions can be differentiated.
Crushing is the process of transferring a force amplified by mechanical advantage through a material made of molecules that bond together more strongly and resist deformation more than those in the material being crushed do.
Slurry seal machines
Slurry seal is a cold-mix paving system that can remedy many streets, airfields, parking lots, and driveways. According to a laboratory's mixed design formula, the principal materials used to create slurry are aggregate, asphalt emulsion, and fillers mixed.
Heavy-duty pumps (Slurry pumps)
A slurry pump is a type of pump designed for pumping liquid containing solid particles. Slurry pumps change in design and construction to adjust to multiple kinds of slurry, which vary in concentration of solids, size of solid particles, the shape of solid particles, and composition of the solution.
Slurry pumps are more robust than liquid pumps; they have added sacrificial material and replaceable wear parts to withstand wear due to abrasion.
Final Thoughts
The construction machinery and equipment used in the construction industry have a long history of use. In the last few decades, there has been an explosion in the industry's growth due to its demand for materials and resources. The primary function of these machines is to move or shift material from one place to another. These machines are called cranes, forklifts, excavators, bulldozers, etc. They help construct buildings, roads, and other structures, which is the primary role of a construction machine.